W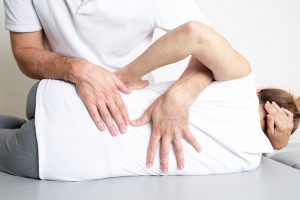 hen a joint becomes restricted in movement, it may begin to cause pain. To restore the lost movement and recover proper function, a chiropractor will utilize a technique called chiropractic manipulation/adjustment. In chiropractic manipulation, a specialist applies a sudden, controlled force to one or more joints in order to correct the body's structural alignment. It is common for gasses to build up in a joint that has been restricted of motion. During a chiropractic adjustment, this gas is released and often results in a popping or cracking sound (it's is the same noise you hear when you crack your knuckles). Sometimes a popping noise does not occur, but this doesn't necessarily mean the adjustment was not successful. Every patient and adjustment are different.
At Fletcher Chiropractic, we incorporate several different techniques into chiropractic manipulation, but most often we use our hands and a gentle pressure or thrust to restore motion. We use motion palpation, an examination technique that uses the hands, to correctly identify the area of the body where the issue is rooted. From here, we can determine different ways to correct the improper movement and establish a treatment schedule.
Both current and past research supports the use of chiropractic manipulative therapy and its adjunct therapies as the gold standard for common lower back pain. Studies have also shown that chiropractic care is effective in treating neck pain, headaches, and other joint pain, including shoulder, knee, and elbow.