Muscle and joints work together to literally move you through your day. In instances of injury or pain, muscles can become damaged and very tight, or the person may even experience a spasm. At Fletcher Chiropractic, we carefully examine how your muscles are moving to determine whether they need stretching or more advanced treatment to restore proper movement patterns. Our chiropractors have training in many different soft tissue therapy techniques, including post isometric relaxation (PIR), myofascial release therapy, trigger point therapy, and more. Our doctors may utilize instrument-assisted soft tissue mobilization (IASTM), which includes techniques like Graston, FAKTR, and guasha to help break down chronic inflammation and scar tissue. For further healing, our doctors are certified in Kinesiology Taping, which allows healing to occur even when the patient is not present in the office. With soft tissue therapy, the muscles will elongate and the patient will begin to experience less pain, less tightness, improved circulation, and better range of motion.
Graston Technique®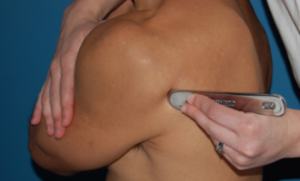 The Graston Technique uses special equipment to effectively break down scar tissue and fascial (connective tissue) restrictions. The technique utilizes stainless steel instruments to specifically detect and effectively treat areas exhibiting soft tissue fibrosis or chronic inflammation. The instrument is used in a way to comb over and "catch" on fibrotic tissue or adhesions, which immediately identifies areas of restriction. The Graston Technique reduces the need for anti-inflammatory medication, resolves chronic conditions thought to be permanent, and fosters a faster rehabilitation/recovery.
Graston is a proven technique among physicians and sports medicine practitioners in treating many musculoskeletal injuries and complaints. These include carpal tunnel syndrome, lateral epicondylitis (tennis elbow), rotator cuff tendinosis, Achilles tendinosis, scar tissue, shin splints, plantar fasciitis, medical epicondylosis (golfer's elbow), patellofemoral disorders, IT band tendinosis, thoracic outlet syndrome, headaches, strains/sprains, and TMJ pain. Please visit Graston's website for further information or call our office at 402-261-5766.
FAKTR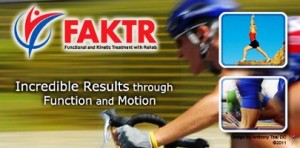 FAKTR (pronounced "factor") is a concept that combines several different soft tissue therapy techniques. The acronym stands for Functional and Kinetic Treatment with Rehab. Creators Greg Doerr DC and Tom Hyde DC began to experiment with treating soft tissue/fascial disorders through the use of instruments. The doctors decided to incorporate their combined previous training into a concept that included function and treatment of the kinetic chain while utilizing various other forms of reha­bil­i­ta­tion at the same time. They also incor­po­rated treat­ment in the posi­tion of provo­ca­tion (pain, loss of range of motion, feeling of tightness within the fascia/soft tissues, and during motion). FAKTR incorporates all of the above vari­a­tions to eval­u­ate and treat soft tissue/fascial con­di­tions. Visit FAKTR's website to learn more.
Kinesiology Taping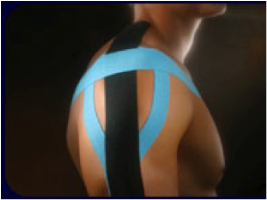 Kinesiology or Kinesio tape is a therapeutic tape that is designed to facilitate the body's natural healing process while giving support and stability to its joints and muscles. It extends the effects of soft tissue therapies like Graston and myofascial release. In contrast to traditional sports tape, which is used strictly for stabilization and support during a specific athletic event, Kinesio tape does not affect the patient's circulation or range of motion. Kinesiology taping is specifically applied after the evaluation of the patient's specific needs and goals. It is used for many sports injuries and a variety of orthopedic, neuromuscular, neurological, and other medical conditions. The tape can be left on for 3-5 days and allows the therapeutic benefits of the treatment to last until the tape is removed.