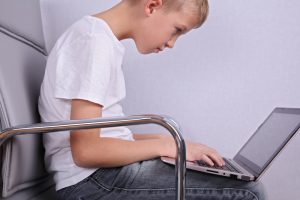 Poor posture among children has become increasingly prevalent in modern life. Most posture issues can be attributed to heavy backpacks and slouching while on smart phones or playing video games. Like every other healthy habit, it's best to start them early, and if poor posture is left unchecked, it can lead to a lifetime of aches and pains. Some of the reasons to check your child's posture are:
As your body undergoes poor posture, it actually changes the natural 'S' shape of the spine. These vertebral misalignments are called subluxations and can constrict the blood vessels, cutting of nutrients and oxygen and restricting the nerves.
When your spine is out of alignment it puts extra stress and strain on the muscles that support it. After a while this will lead to neck and back strain as your body overcompensates which can cause a trickledown effect in the body.
Our skeleton houses our internal organs, and when your skeleton is out of whack, it can put physical stress on your organs and damage them.
In order to properly diagnose spinal issues in children, it is vital to seek a chiropractor with experience working on children. At Fletcher Chiropractic, we incorporate several different techniques into chiropractic manipulation, but most often we use our hands and a gentle pressure or thrust to restore motion. We use motion palpation, an examination technique that uses the hands, to correctly identify the area of the body where the issue is rooted. From here, we can determine different ways to correct the improper movement and establish a treatment schedule.
Both current and past research supports the use of chiropractic manipulative therapy and its adjunct therapies as the gold standard for common back pain. Studies have also shown that chiropractic care is effective in treating neck pain, headaches, and other joint pain, including shoulder, knee, and elbow. Call us today to set up a free consultation.