Summer is coming to an end, along with the gardening season so a good way to finish up the garden is making salsa.   A staple in our house through out the year is canned salsa but today, we thought we would share our fresh salsa recipe with you!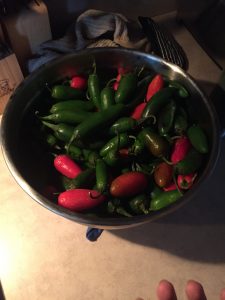 You need the following:
1/2 White Onion
1 Cilantro bundle
Few Jalapenos (Optional)
1 Lime
10-15 Roma Tomatoes
1-2 Green Peppers
1 glove of Garlic
Step 1.  Submerge the tomatoes in boiling water for 30-60 seconds followed by an ice bath.   Then remove skins then core and remove seeds from tomatoes.
Step 2.   Chop up Onions, Peppers, Jalapenos, garlic, and cilantro into fine pieces.  Roughly a quarter of an inch.
Step 3.   Add everything you chopped up from step 2 and add tomatoes from step 1 into a blender.   Pulse for 15-30 seconds depending on your desired texture of salsa.
Step 4.   Cut lime and add juice to salsa.
Step 5.  Refrigerate for 30 minutes to allow for thickening.
Then enjoy your salsa!   Keep in mind that this is fresh salsa and not canned salsa.