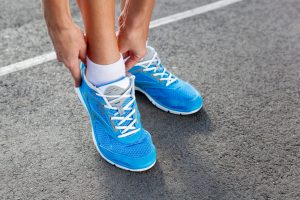 With a bit of disciplined (but not difficult) preparation and thought, you should be able to start your outdoor spring training without strains, sprains, or tears. To begin, what are the differences between strains and sprains? A strain is an injury to tissue that connects muscle to bone, while a sprain is an injury to a ligament that connects bones at a joint. Both injuries share similar causes, with symptoms occurring when a muscle, tendon, or a ligament is stretched or torn. (https://www.niams.nih.gov/health-topics/sprains-and-strains)
When winter passes and the weather begins to warm up, athletic enthusiasm or cabin-fever motivation sometimes overtakes common sense approaches to the physical transitions of our bodies between seasons. Whether you're training for marathons, or just looking forward to leisurely hikes as soon as the weather is warm enough to ditch the multiple layers of clothing, keep these tips in mind to help avoid spring injuries that otherwise may haunt you well into the summer.
Winter boots and sandals are different!

 

Winter footwear provides way more support for your feet and ankles.

 

Your feet have spent roughly six cold months in cozy, warm supported environment.

 

Shocking them suddenly with sandals (or similar unsupportive footwear), can lead to minor strains or more serious issues like plantar fasciitis.

 

Transition gently to your running shoes and other less binding daily footwear and don't over-train on your first few days out.
Shin splints, and other issues, are typically caused when physical activity is suddenly increased.

 

So pay particular attention to warm-up stretches that ease your calves, shins, ankles and Achilles tendon into workout routines.

 

Roll your foot over a foam roller or a frozen water bottle to add flexibility and ease sore arches. 

https://www.verywellfit.com/how-to-prevent-and-treat-shin-splints-3432863

Be aware of your stride.

 

Ultimately, you'll go faster by pushing off more with your back leg, so practice your pace with longer stride in back and shorter in front.
Walking shoes should have flexible soles and low heels.

 

Running shoes should be replaced at least every 500 miles.
Once you've eased yourself into a gentle pre-season warmup routine, you should be good to go into your full season training.

 

However, if something begins to hurt more than the basic soreness of training, take at least three-day break from your training routine.

 

If the pain isn't alleviated after three days of rest, consider having it looked at by a professional.
Although there are cautionary measures that can be taken to prevent sprains and strains, these injuries remain purely accidental. One can be caught off guard by a fall, an unusual twist of the knee or arm, a recent injury, or by lifting heavy objects. Unfortunately, winter can lead into the spring months with injuries due to adverse weather conditions and participation in winter sports. Thankfully, there are helpful steps you can take to treat sprains and strains as you step into spring. For immediate care of minor injuries, the Mayo Clinic recommends that you try the R.I.C.E. approach – rest, ice, compression, and elevation. (https://www.mayoclinic.org/diseases-conditions/sprains-and-strains/diagnosis-treatment/drc-20377943)
Rest – Avoid activity that causes any pressure or pain on the injured area. However, this does not mean you have to forego physical activity completely. Exercise is acceptable as long as you avoid using the affected joint or ligament.
Ice – Even if you intend to seek medical help, you should apply ice to the area immediately. This can be done using an ice pack or a bath of ice and water for 15-20 minutes each time, repeated every 2-3 hours while awake in the first few days post-injury.
Compression – Compress the injury with an elastic wrap to reduce swelling, wrapping at the farthest end from your heart. However, be careful to avoid wrapping it too tightly so that it does not inhibit circulation. Loosen the bandage if pain, numbness, or swelling occur below the wrapped area.
Elevation – To reduce swelling, place the injured area on a pillow in order to elevate it above the heart.
Along with these methods, over-the-counter medications such as ibuprofen and acetaminophen can be used to reduce pain and inflammation in strains and sprains. However, if your symptoms are moderate to severe, you may need physical therapy, or even surgery, to repair the muscle, tendon, or ligament. You can confirm a diagnosis by scheduling an appointment with a trusted medical provider. In particular, chiropractic care can be considered more cost-effective than the traditional medicine approach to spinal and joint pain.
The doctors of Fletcher Chiropractic are trained in a variety of different techniques to help serve our clients. For more information about how the doctors at Fletcher Chiropractic can help to relieve your pain, treat your condition, and improve your overall health, visit our online patient center, or contact us here.