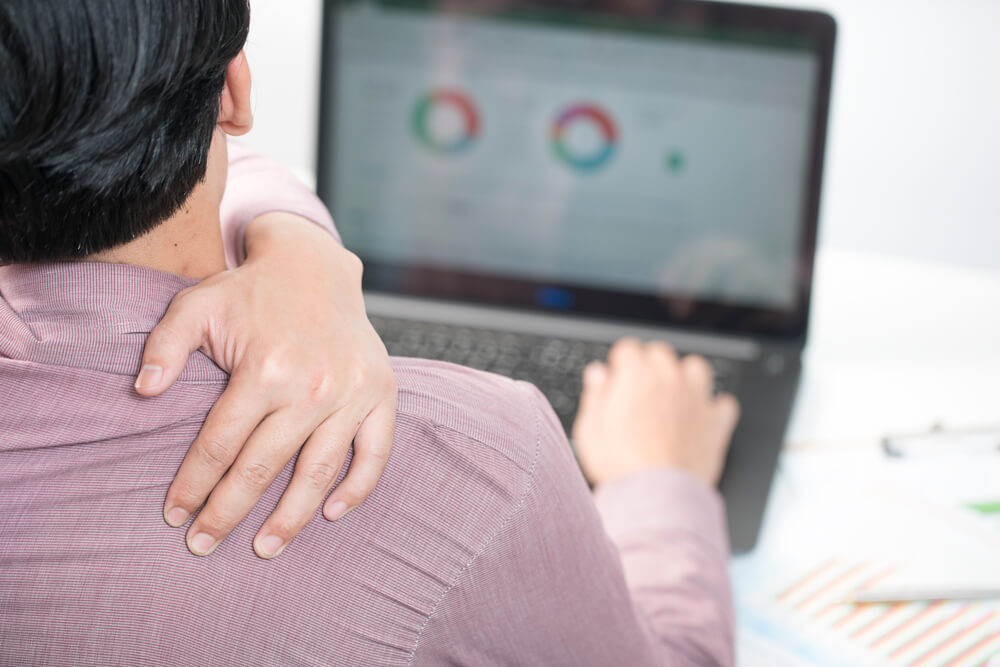 Manual labor jobs are on the decline thanks to advancements in technology. Jobs are becoming less physically demanding as the workforce moves from the factory lines to the desk. Technology has certainly made our lives more sedentary.
But as technology makes our lives easier, it comes with problems. Many things in life work as a bell curve. There are limits to everything, as both ends of the bell curve have extremes that should be avoided—too much of a good thing becomes counterproductive.
This idea applies to technology in the workforce. Manual labor's peak caused immense physical ailments to line factory workers—there was too much labor and not enough rest. As the workforce migrates from manual labor to desk jobs that are almost exclusively sedentary, researchers are finding that too much not-moving is increasing low back pain throughout the first-world.
The prevalence of low back pain is on the rise and is unlikely to plateau anytime soon. Researchers believe much of this is due to the increasing number of inactive, or sedentary, workers. In the past, manual labor jobs forced people to be active. Today, people are sedentary at work and have the choice to be sedentary at home.
The body adjusts to its lifestyle and a sedentary body will adapt accordingly. For instance, it's common knowledge that muscles weaken with an inactive lifestyle. When people think of weak muscles, they think of small arms and a weak bench press. But this is not the case. Gym-goers and active people aren't just training to "look hot." Sure, they don't have a day dedicated to lower back, but each activity they do strengthens their lower back. Just like the bell curve mentioned earlier, however, too much activity can also lead to back pain and potential injury.
How sedentariness causes back pain
When a sedentary person's lower back muscles weaken, more force is applied to the spine ancauses back problems. Low back pain can ruin an entire day. This is because your lower back is used in almost everything. Do you remember in gym class when the teacher would torture the class with a core workout? Do you remember how your abdominals hurt when doing anything the next day? The same applies to your lower back. What many people do not realize is that your low back is actually a part of your core, not just your abdominals.
The core portion of your body plays a vital role in twisting, lifting and stability, functions that are utilized in all forms of exercise. When your body is active, no matter the activity, your core is engaged and firing. But don't worry, it won't hurt like gym class the next day. Core muscles are stability muscles and take much more effort to cause soreness.
In addition, the increases in sedentary lifestyles also correlate with the increasing prevalence of obesity. The lack of activity leads to lower caloric usage and a decreased metabolism—less activity leads to less muscle mass, which causes the body to burn fewer calories.
How to fix, or manage, lower back pain before it's too late
Chronic back pain can eventually become severe enough to cause permanent problems. But fortunately, many cases of chronic low back pain have multiple avenues to actively treat, halt and even reverse their effects. Exercises such as weightlifting, jogging, walking, active hobbies or simply remaining active with your children are some the more common ways, as long as this activity is frequent throughout each week. In addition, chiropractic manipulations will realign your spinal column, alleviate pain and prepare you for your new active lifestyle.
It's important to note that the core of your body is used in almost every motion. Back pain will happen to everyone due to the sheer exposure to injury opportunities. But these flare-ups will become episodes, not daily ailments, as you become active and strengthen those muscles.